e84 – Double Dribble (NES) - Press Continue Podcast EP84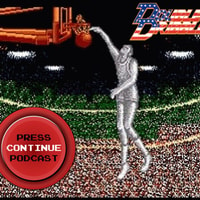 Mad dunks and 3 pointers are missed every time as we lose at Double Dribble on the NES. Tune in as we talk about this early masterpiece of a basketball game from Konami and compare it to sports games of today.
Brittany sees Ready Player One and Adam starts watching Krypton on SYFY Network.
Follow our new twitch channel at http://twitch.tv/presscontinuepodcast.com
Find out more at https://press-continue-podcast.pinecast.co